Earth Day is April 22, 2019!
As Earth Day approaches, now's a good time to think of little solutions to a more eco-friendly lifestyle. We've rounded up a few sustainable beauty products and tips for a greener beauty routine. If you'd like to learn more about the products below, you can find all of these products in-store at any Adolf Biecker location.
1. Liter Sized Products
When you can, purchase your favorite beauty products in liter sizes. You'll get more product and end up with less waste — Aveda liters save 20% per ounce and help save resources by using less packaging. Additionally, Aveda has a responsible approach to packaging their products. With every package Aveda develops, they are mindful of their environmental footprint and work to minimize packaging and maximize their use of recyclable and post consumer recycled materials. Learn more here. 
2. Rinseless Refresh Micellar Hair & Scalp Refresher 
We're so excited about this new Aveda product! IIt's perfect for the gym and no-wash days because of the micellar technology which helps to instantly cleanse scalp, refresh hair and texture with no-rinse required. The aroma is a mix of jasmine and certied organic mandarin, lemon and ylang ylang.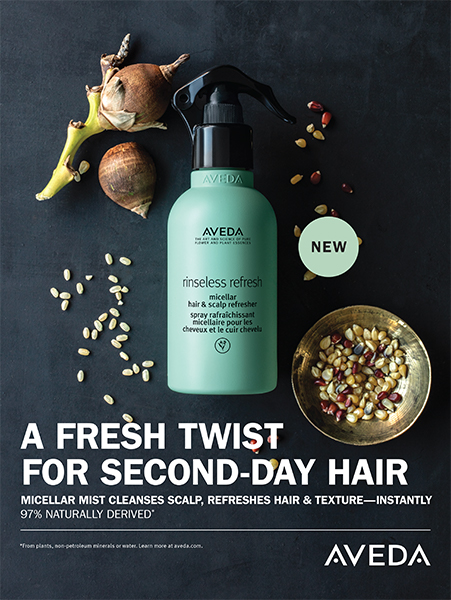 3. Shampure Dry Shampoo
This is Aveda's original dry shampoo! Shampure Dry Shampoo is our ultimate no-wash day favorite. This non-aerosol dry shampoo mists out as a powder to revive hair, absorb excess oil and add texture. And of course, the aroma blend is Aveda's iconic Shampure (25 pure flower and plant essences).
4. Limited-edition half-litre Shampure Hand & Body Wash
When you buy this limited-edition shampure, you will be donating clean water. One bottle gives one person clean water — 100% of the purchase price gives clean water through charity. Learn more here.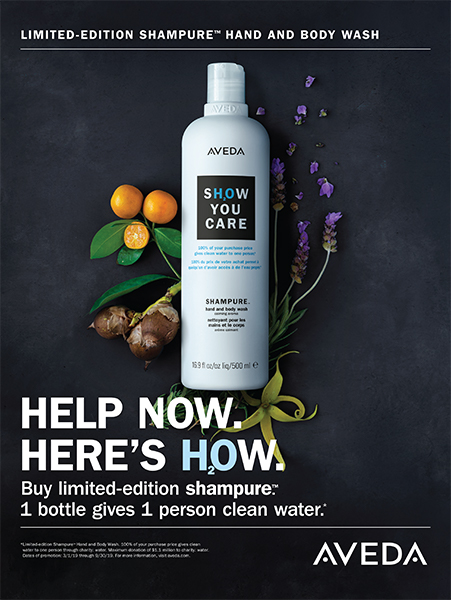 We're celebrating with Aveda all month (for Earth Month!) long to protect our planet and to support clean water and protect our planet. Stop by or call any Adolf Biecker location to see how you can join our Earth Month festivities!